The Project Setup Wizard is Voxpopme's DIY feature, allowing you to create and launch your projects within the Voxpopme platform.
Got a project idea?
Start building it immediately with the Project Setup Wizard. Use best practices, templated questions or one of our prebuilt templates to design your study in minutes, and distribute with ease. And because it's self-serve, you can create your study when it suits you, fielding within the time frames you need.
With Voxpopme's Project Setup Wizard, you can:
Design and launch your projects inside the platform. 🎉

Set your background and objectives, choose your audience, design your study, review your selection and launch. ✍️

Lean on the guidance and recommendations provided throughout the Project Setup Wizard. 🧙‍♂️

Access all the project details you submit within the platform.

👩‍💻
Let's get started
To launch the Project Setup Wizard, select 'Start from template' or 'Start from scratch' from your dashboard or 'Create projects' from your projects view. First off, why not explore and discover the different templates we have available (We've just launched our new AI-powered template "Smart SurvAI" which creates engaging questions for you based on your survey objectives). More information on each template can be found by clicking the (i).
Select your template or start from scratch to move to the next step.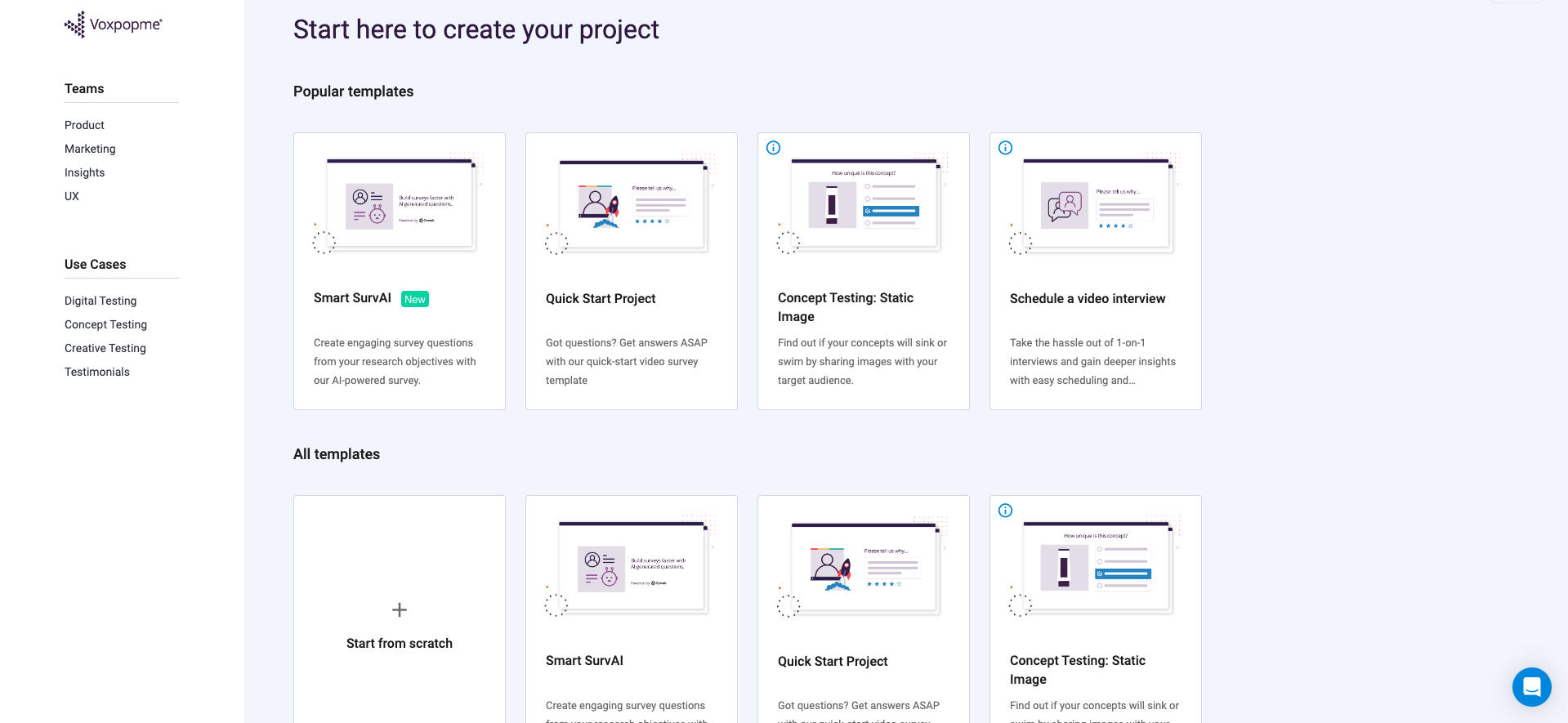 If you chose to Start from scratch, you'll be asked to fill out additional information on your project, like your background and objectives, which can be re-accessed within the platform at a later date.
Choosing your audience
Next up, select the audience you wish to target. Choose your target market(s), number of respondents per market (Which will calculate the total number of responses by taking the number of respondents times the number of video questions for the project for each target market selected), utilise our predetermined demographic options, then create your own screening questions (click here to learn more about writing screener questions) to narrow in your target further. Lastly, you can choose how you would like your targets to fall, specifying quotas based on demographics and screening criteria. Click here to learn more about quotas.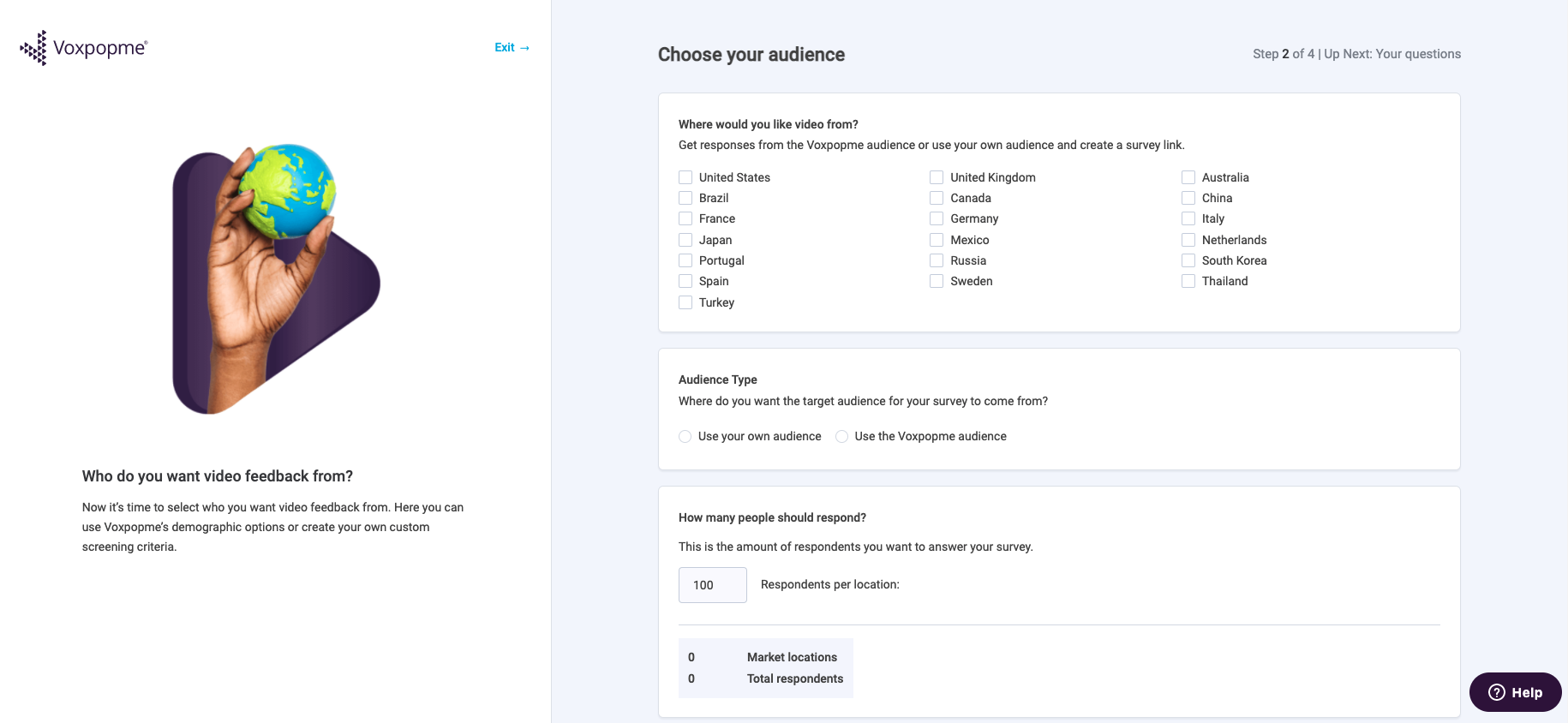 Your Questions
Now it's time to craft your study! Choose to add in stimuli to display to your respondents, either upload an image or enter an external media link. You can choose to place both stimuli before all video questions or select the question you would like them to appear before.


Then select if you'd like to ask respondents any of the additional quant questions available. Finally, enter the video questions you'd like to ask.
Select 'add recommended question' to view and use some of our templated questions. Enter the question wording, and be sure to include additional prompts. Click here to learn more about writing video questions.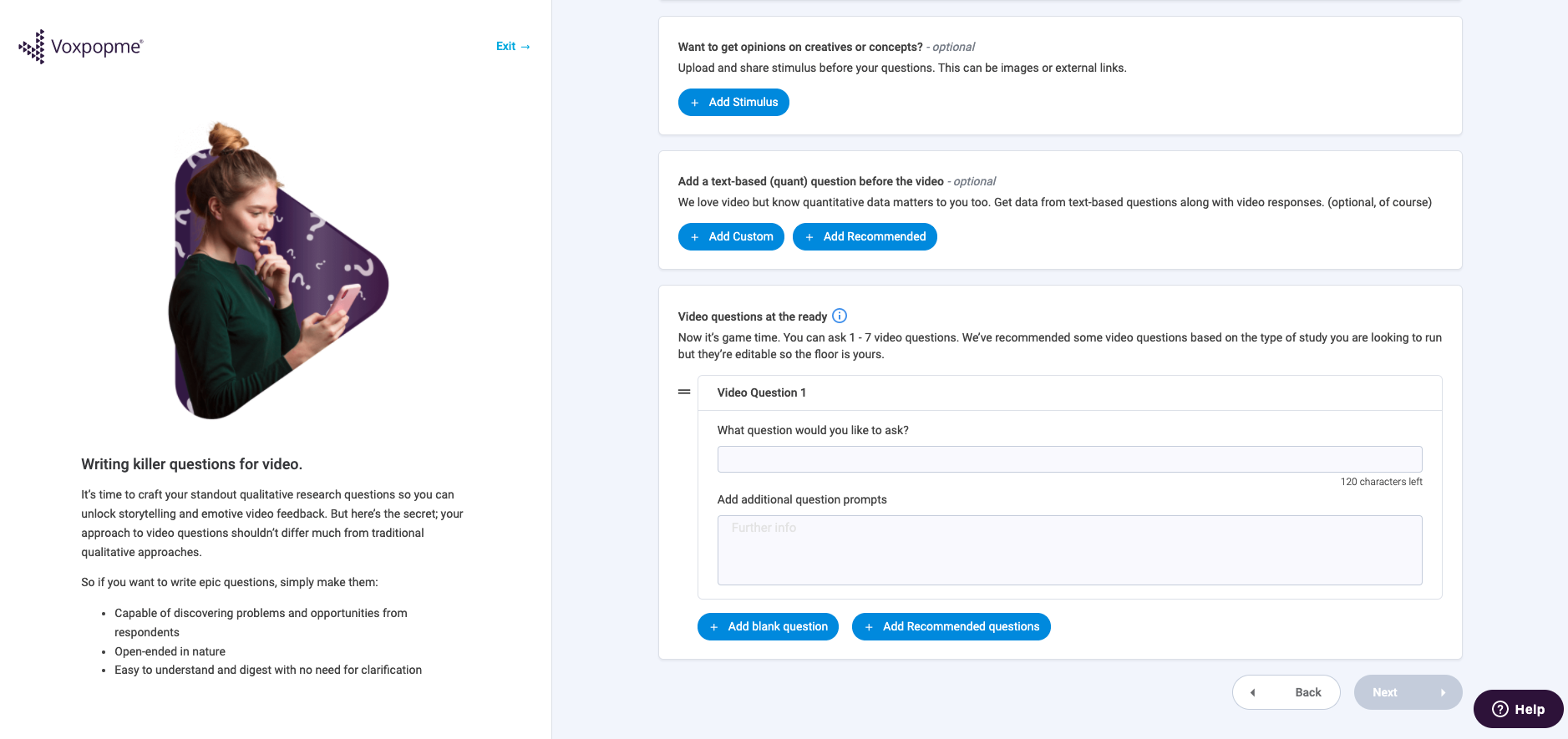 Your Project Overview
Before submitting your project, review the information that's been entered. Use the edit icon on each section to jump back and update your project. You can also preview your survey as a respondent would see it. Once you're happy then you can launch your survey or submit for review by the Voxpopme team who will be notified of your project submission andthey will jump in, review the project setup, and approve your launch of the study.
If you have selected a target market outside our OnDemand community, there will likely be additional costs to run the study. The Project Management team will reach out to you within 4 hours of your project submission.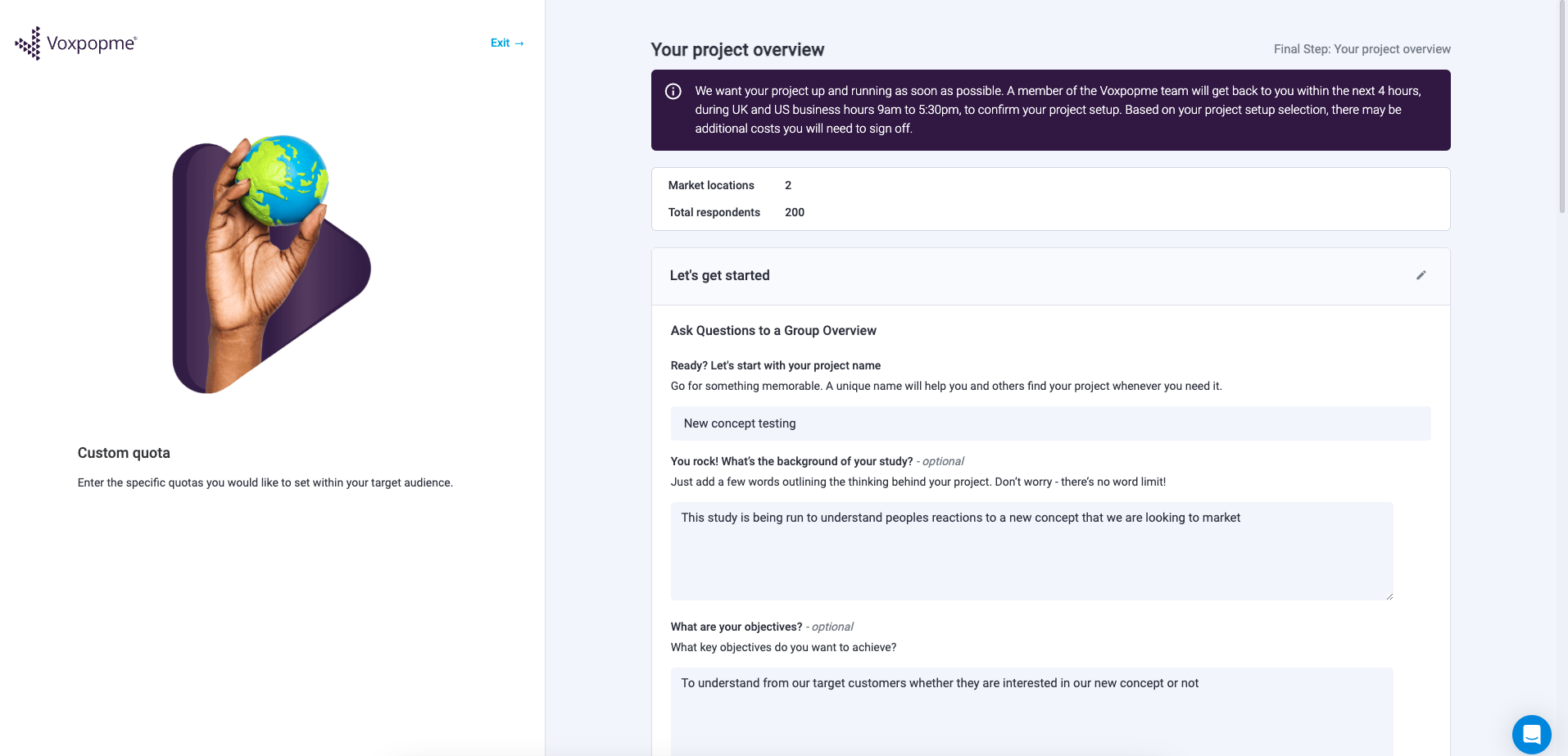 Have any questions or need any help?
Reach out to your usual Voxpopme contact if applicable or via the contact us option, and we will be happy to help you!