Getting Started
Get started with your first Agile Video Discovery Project with this how-to. This XM Solution enables you to capture qualitative data within hours and days, not weeks. By choosing this solution, a multi-question study will be created, allowing you to capture video feedback from your customers.
Navigate to the Projects page by clicking the XM logo or clicking

Projects

on the top-right.

Click

Create Project.
Select Product Experience.

Choose the Agile Video Discovery option from XM Solutions - Automated Projects.
Name your project, and then select Create Project.
To create your solution, all you'll need to do is:

Provide your product name/concept/discussion topic
Add product image or video (optional)
Input up to 10 questions
Determine who the survey will be sent to

Select Get Started.
First up, enter the product name or discussion topic. This will be displayed to your respondents. Below, there is room to describe the product or discussion topic too, if you'd like to provide further information.
Next, if you'd like to display a product concept image or video within the survey, this can be uploaded here. This is optional.
Then, define the questions you'd like to ask. We recommend that you ask 3-7 questions. By default, 5 questions are displayed.

Each of these questions can be edited.
Use the Remove button to delete any questions you wouldn't like to include.
Select Add Another if you'd like to ask additional questions.
On the right-hand side, you'll see a number of Voxpopme recommended questions. Copy and paste any of these questions from the right-hand side into the question input box to include this in your survey.
Note - we recommend only asking 1-2 questions in each question box, as respondents may not have time within their response to answer any further questions. Add another question if needed.



Lastly, there are a number of demographic questions that can be included within the survey, if you would like to capture this information on your respondents. Use the checkbox selection to choose as many or as little demographic questions as you wish. This is optional.


When you're ready, select Finish. There is the option to Continue Later if preferred.
Preview Your Survey
By selecting Preview Survey, you'll see the survey flow that the respondents will be asked. This included the survey introduction, any demographics questions, video recording instructions, and the video questions being asked.
Unfortunately, when using the Preview option, the video capture widget won't load. To test through this experience, we recommend following the below instructions.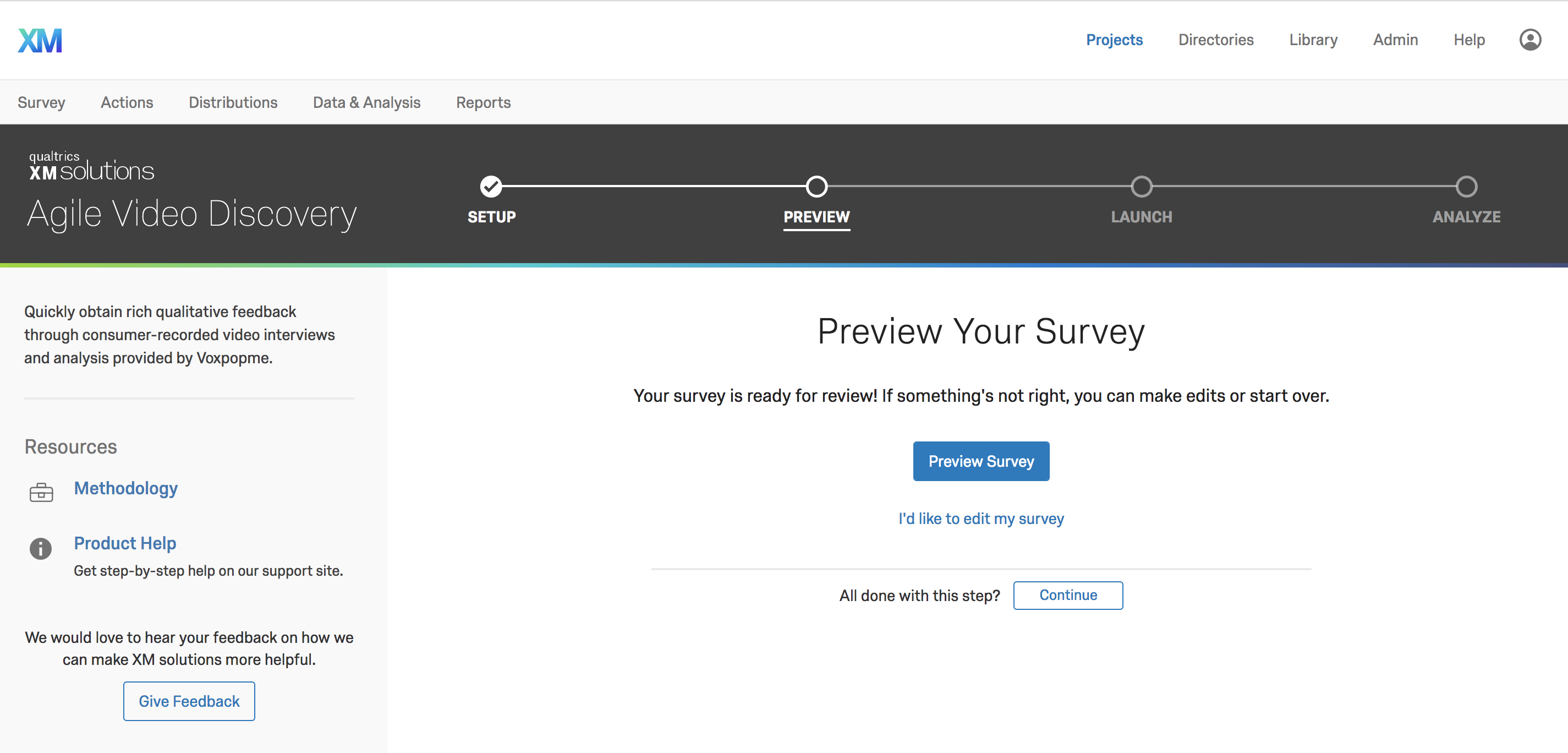 If you're currently previewing the survey, select to close the Preview. If not, select Continue.
Move onto the Launch stage.


Choose Select Distribution.
Next, select the Web option. Then Use Anonymous Link. This will generate a survey link.


Click on the survey link to open up the survey. Click through the survey, and when you approach the video questions, you are able to record your video responses.

Note - if you wish, you can record video responses to the question asked. Each video will go through our QA process. As long as you do not answer the question being asked, your response will be declined and will not count towards your quota.
Viewing Your Video Responses
Once you've distributed your Agile Video Discovery survey, head over to the Voxpopme portal to check out your video responses as they are captured. The Voxpopme portal can be accessed through your Qualtrics account, follow the steps below to access your video responses.
From within Projects, select the actions menu on the Agile Video Discovery project you wish to view. Then select View Reports.
You'll land on the Results page for this project. Select the Reports tab.
Here, you'll see the option to Explore your video responses. Click the Go to Voxpopme button.
Next, you'll automatically be redirected to the Agile Video Discovery project created in the Voxpopme platform for this survey.
Check out your video responses. Any demographic data captured in the survey will be displayed against on the responses. Here you will see the question number associated with the question that the respondent has answered.
From here, you can make use of all features within the Voxpopme platform to analyse and share your video responses.