Folders for Showreels (previously Lists) allows you to easily structure and categorize the lists of video responses and snippets you've created. Create as many folders as you wish within your account. You can also create sub-folders to help organize your showreels and make navigating through them as effortless as possible.
Create Folders
From the Showreel Editor view, click 'Create Folder' in the top right and name the folder.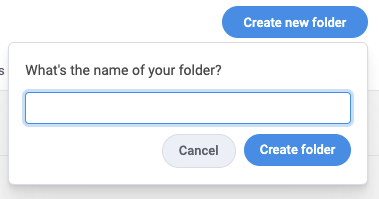 Edit, move and delete folders

The "Edit" pencil allows you to rename the folder. Guests cannot edit a folder. You can move the folder to any other folder. Guests cannot move folders. "Delete folder" option from within the folder. Folders can only be deleted if the folder is empty. If the folder contains other lists and folders, those should be removed from the folder before the folder can be deleted. Guests cannot delete a folder
Add Showreel to Folder
Once you have created a folder, you can drag and drop a showreel to add them to the folder.